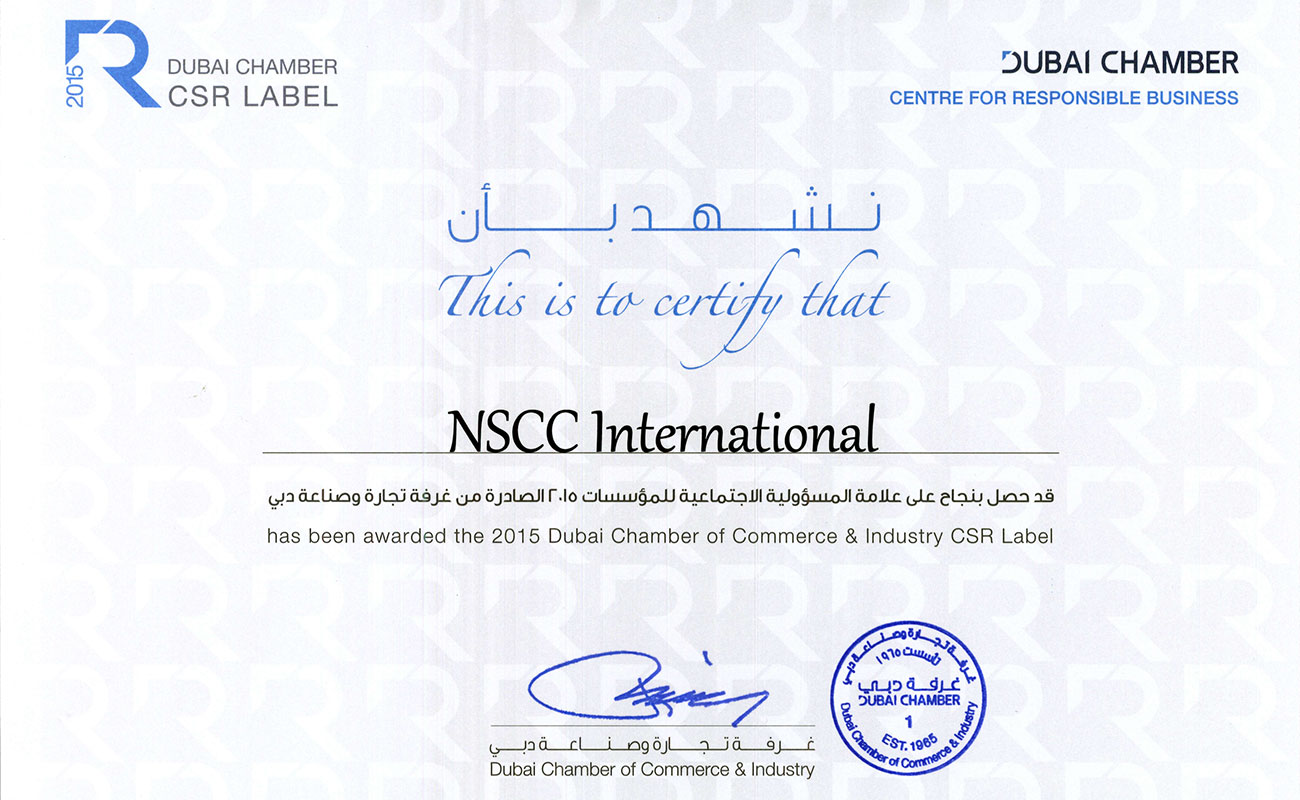 NSCC International Awarded Dubai Chamber CSR Label
NSCC International, a leading ground engineering contractor in the Middle East, has been awarded the Dubai Chamber CSR Label (December 2015 cycle). Presented by the Chamber's Centre for Responsible Business, the award recognises companies that have demonstrated a commitment to best practices in Corporate Social Responsibility. H.E. Hisham Abdullah Al Shirawi, 2nd Vice Chairman of the Dubai Chamber presented the award to Khalil Khouri, CEO of NSCC International, at a ceremony held at the Dubai Chamber of Commerce and Industry headquarters on 2 March 2016.
Commenting on this award, Khouri said, "'CSR' and 'sustainability' are not terms you commonly hear in an industry like ours but nevertheless are aspects that need to be integrated into every part of any business in this day and age. We are proud to have been recognised by the Dubai Chamber for our efforts, and also grateful for the valuable feedback provided by the Centre for Responsible Business. We strive to do more with initiatives to increase awareness and adoption among our staff and stakeholders."
The Dubai Chamber CSR Label contributes towards building a more responsible and sustainable business community. A company getting the Label indicates that it has done consistent and significant work in CSR and will continue to develop it further. The Label is also a learning and development tool that helps companies to define and improve their CSR strategy, policies and management practices.
NSCC International is a specialised contractor in the field of foundation engineering, ground improvement, onshore marine works and horizontal directional drilling. From its inception in 1968, NSCC prided itself on quality workmanship, on-time delivery and superior value, with international best practices for Quality, Health, Safety and Environmental Management at the core of its business as an ISO 9001, ISO 14001 and OHSAS 18001 certified company. NSCC International operates in the UAE, Qatar, Oman, Iraq, Saudi Arabia, Bahrain, Kuwait, Egypt and Lebanon, and is proud to associate itself with iconic projects like the Abu Dhabi International Airport Midfield Terminal Complex, Al Raha Beach Development, Etihad Museum Dubai, The Palm Jumeirah, Lusail Marina Mall Doha and Qatar National Museum.